Gala India's one of largest manufacturer of home cleaning tools brings out Spin Mop- Popular. Keeping up with leading change and dynamic market scenario we desire to serve consumer of every segment by our unique product offerings. We strive to offer utility and convenience thus providing easy cleaning solutions. Spin Mop- Popular with Wheels which makes dragging bucket from one room to another comfortable, Micro Fiber Refill with super absorbent capacity, Super Spin system which makes drying refill faster, Special Cleaner to clean remove dirt & clean refill.
Tired of mopping your floors? Meet the Gala Spin Mop which is specially designed to make mopping floors easy and effortless for you.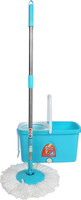 360-degree Cleaning
Thanks to its 360-degree cleaning, you can mop under the cot or behind the couch, and clean every nook and corner of your home, even the hard to reach areas easily.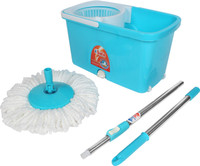 Quick Lock
This mop set features a quick lock system which not only makes mopping the floors convenient but it also helps in cleaning itself by keeping it firmly locked.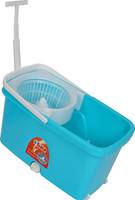 Ergonomically Designed
Specially designed with a spout shape and featuring a strong handle, this mop set allows you to pour out the dirty water. The built-in wheels allow you to carry the bucket with your all around your house easily.
Water Outlet
Equipped with a water knob, this mop set is designed in such a way that it allows you to throw out dirty water without messing the floor.
Bigger Bucket
Fill the Gala Spin mop with water, and clean your entire house in one go, thanks to its large bucket.
In The Box
1 Water Bucket, 1 Refill, 1 Mop Head, 1 Mop Handle
General
Brand

Model Name

Model Number

Color

Shade
Mop Features
Mop Material

Handle Material

Adjustable Handle

Swivel Head
Bucket Features
Capacity

Bucket Material

Built-in Wringer

Handle Included

Pedal Included

Wheel Support
Additional Features
Other Features

Super spin system makes Drying Refill Faster, Micro Fiber Refill with Super Absorbent Capacity Offers Superior Cleaning Performance. 360 degree cleaning, reaches under furniture and hard to reach areas. Spout helps in letting go dirty water from the bucket without dirtying your hands. Water Knob removes dirty water without messing the floor.
Dimensions
Other Dimensions

Width:28 cm, height:27 cm, length:50 cm
More Information

| | |
| --- | --- |
| SKU | 8901663304257 |
| MPN | 8904245809140 |
| Brand | Gala |
| advance amount | ₹100.00 |
No Other Seller Selling this Product
An order, once placed, can't be cancelled.
Return and Replacement is subject to the Return Policy.
For any other queries, do reach out to Jantacart Care at : [email protected]
Light shipment are shipped by Ecomexpress and the minimum delivery time is 7days from the date of order processing.
Heavy shipment are shipped by DELHIVERY/FedEx and the minimum expacted delivery time is 10days delay will be happens due to pickup and Shipment connectivity issues from the date of order processing
All products inventory are managed by company Authorize distributor after their confirmation order will update and dispatche.